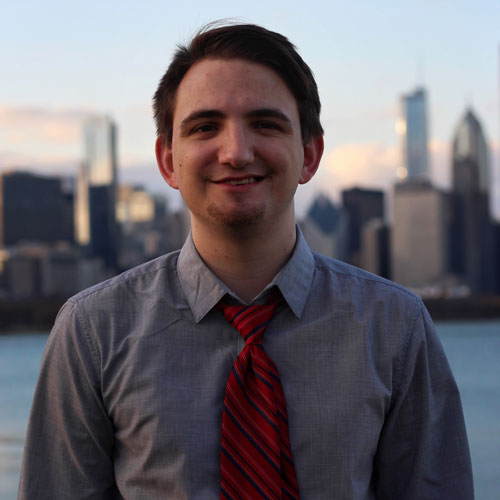 Summary
Hello, I am Matthew! I am a 24 year old from Chicago, Illinois.
I am a recent graduate at Northeastern Illinois University; majored in Computer Science with Information Technology and Computer Networks & Security concentrations. Have strong knowledge in Web Development languages and intermediate knowledge in Java, PHP, Git, and Linux. Have the ability to build websites with styling utilizing HTML and CSS languages. Have the ability to develop applications for iOS and Android by utilizing Android Studio and XCode. Have the ability to setup Linux servers with software and scripts. Team player who can also work independently and complete projects in a timely manner. Seeking a position in Web Development, App Development, Technical Support, or Server Management.

On a personal level
I am a full on geek that loves to read tech news, watch tech videos, and follow the latest developments of companies. Other than tech, I am very into photography, cycling, and wrestling. Photography, for me, is how I like to express my talents of taking pictures and shooting videos. Additionally, I like taking pictures of the city and nature itself. It allows me to express what I see to other people in other parts of the world, like my family from Poland. Recently, I have gotten into shooting timelapses, so I hope to do more of that. I am also a huge wrestling fan and really like watching wrestling weekly. I understand its scripted entertainment, storylines, but I still feel very entertained by it. Cycling is something I have been doing, since the fourth grade, with a passion. If there is a place I can get to without driving or even walking, I will ride my bike.

On a geek level
My current smartphone is a Pixel 3 with Android 10. I am strong supporter of stock Android and fast updates, going back to the Nexus line; my first smartphone was a Nexus 5. My current computer is a Lenovo Legion 5i 15 inch laptop with a RTX 2060 (6GB of VRAM), 16GB of RAM, and 512GB SSD + 2TB SSD (taken out of my old Macbook Pro). I was previously on a MacBook Pro 15 inch laptop from Mid 2012, personally maxed out with a 2TB SSD and 16GB of RAM. I have 2 decent Linux servers where everything from my website to projects (mmBNC, mmRadio, mmTS) are hosted. One Linux server has a Intel quad core processor with 1GB of RAM and SSD storage while the other has a Intel dual core processor with 512MB of RAM and SSD storage. Both run on Debian 9 with PHP 7, Nginx, and MySQL.